"Of course they do, Harry! They're called wizard swears!"
---Hermione Granger in Wizard Swears
Hermione Granger is Harry's other friend. Although she's a girl, she speaks in an effeminate-male voice. Hermione is always helpful to Harry and less of a coward than Ron. Hermione acts a little like the Hermione in the movies. She is like Harry and Ron but she doesn't bother Snape.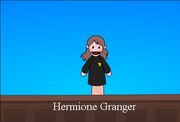 Ad blocker interference detected!
Wikia is a free-to-use site that makes money from advertising. We have a modified experience for viewers using ad blockers

Wikia is not accessible if you've made further modifications. Remove the custom ad blocker rule(s) and the page will load as expected.